ILM-01 Inclination Angle Sensor (Inclinometer)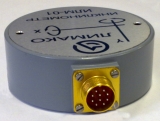 The ILM-01 inclination angle sensor (inclinometer) is intended for high-precision 2-axis measurement of the inclination angle of the monitored object (plane). It can operate either independently or as a part of automatic monitoring and control systems.
Characteristics of the ILM-01 inclination angle sensor:
Inclination angle measurement about 2 axes simultaneously.
Both analogue and digital outputs (RS232, RS485 – Modbus RTU).
Dust-and-splash-proof design – IP55.
Low unit price for one measuring channel.
The digital interface in the inclinometer ensures accurate plane inclination values with no analogue-to-digital conversion losses, remote configuration, time-constant correction, setting of the inclination angle range as displayed by the analogue output, and allows you to determine an inclination angle for the inclinometer to send a control signal to an actuating device, etc.
Basic technical characteristics
quantity of measuring channels .................................... 2
accuracy ....................................................................... up to ±0.10
resolution ..................................................................... 0.010
measurement range ..................................................... ±900
output signal ...................................... RS232, RS485, analogue, discrete
supply voltage .............................................................. 12V
operating ambient temperature range ......................... -40 to +500С
overall dimensions .......................................................... 85x72x30