3D-radar ULM-3D-5
Ask a question
ULM-3D-5 is a multi-beam radar level transmitter with operating frequency over 120Ghz designed for measurement of level and volume of bulk material in a container (bunker, silo etc.). Thanks to its unique design and ultra-high frequency radar technology, radar level transmitter ULM-3D-5 guarantees measurement of bulk product level in multiple points at once. Measurement results allow to compute and construct a 3D profile of the surface of the bulk product stored in the bunker and calculate the volume of the controlled material.

Radar principle guarantees stable measurements not affected by dustiness, high frequency and narrowness of measurement beam provides ULM-3D-5 with high selectiveness, sensitivity and precision of measurement in each point. Precision of result of measurement of bulk products using ULM-3D-5 far exceeds that of a single-beam level transmitter. Using ULM-3D-5 together with MULTI BEAM RADAR SURFACE PLOTTER lets you calculate the volume of the stored product and output a visual 3D image of the product's surface with high precision.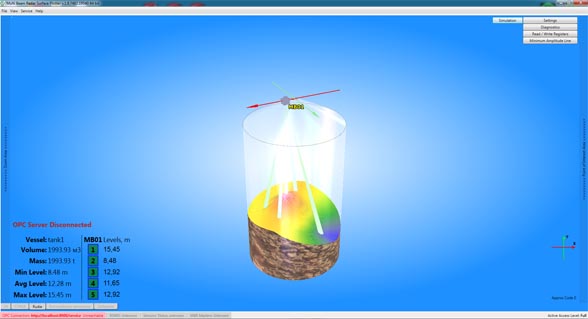 For extra precision of measurement of volume and additional refinement of the surface image several ULM-3D-5 can be used in one container at once. In this case level transmitters are joined together into one measuring system.
For selection of the configuration of the ULM-3D-5 level gage and a complete set of a system of measurement of level demanded to you, it is necessary to fill in the questionnaire and to send it to our address.
Radar level transmitter ULM-3D-5 is designed for measuring level and volume of bulk products. Radar level transmitter ULM-3D-5 is a five-channel radar level transmitter. Five channels function as five independent FMCW radars. Each channel is a radar level transmitter operating at a frequency above 120 GHz with beam pattern width (beam width) of 20, which measures the distance to the surface of the product, each in its own spot. Knowing the placement of the level transmitter relative to parts of the container (silo), initial beam angle and the height of the unit you can compute the level of product in the controlled spot, average product level and volume (when used together with MULTI BEAM RADAR SURFACE PLOTTER).
Radar level transmitter ULM-3D-5 is suitable for measuring the level of food products: grain, corn, soy, rice, flour, combined feeds, oilcakes etc., as well as for measuring the level of non-food bulk products: cement, clinker, ore, coal, gravel, sand, mineral fertilizers and so on.
Multi-channel - simultaneous level measurement in 5 points.
Operating frequency - 120-140 GHz.
Isolated, protected aerial array.
Measurement precision of each channel (beam) ±5mm.
Width of measurement beam (beam pattern) of each channel - 20.
Measurement of average level.
Measurement of volume.
Maximum absolute margin of error, each beam

±5mm

Width

of

measurement

beam

(

each

measurement

channel

)

20

Controlled range

(

vision angle

)

400

Level measurement range

0,6 ÷ 50 (30)m

Ambient operating temperature at the level transmitter installation location

from

-40

to

+60

0

С

Temperature of controlled product

not limited

Power voltage

24VDC

Enclosure

explosion-proof


Ex tb IIIC T85°C Db, IP65

Digital interfaces

RS485 (Modbus)

Analog output

4-20 mA